ClearLift (Lunchtime Facelift)
in Boca Raton, Florida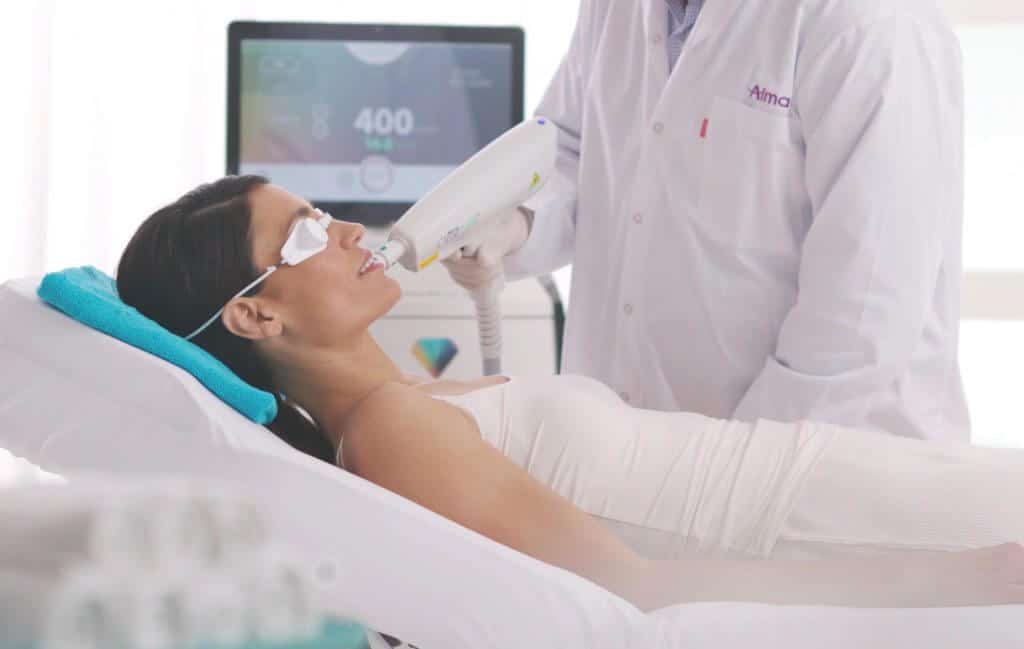 While there are a variety of anti-aging treatments on the market, many are painful or even dangerous to the skin and surrounding tissues. Disgruntled patients wish there was a safer, more painless method to attain dramatically youthful skin. There is now good news for these people: ClearLift Fractional Laser Resurfacing offers the results of competing treatments in a safer, gentler fashion through NuWays MD in Boca Raton.
ClearLift Treatment Areas:
Wrinkles
Scars (especially acne)
Redness
Broken capillaries
Smile lines and creases

Dark circles under eyes
Loss of firm skin
Small visible veins
Fine Lines

Age Spots
Stretch Marks
Sun Spots
What Is ClearLift?
There are two types of laser technology used in skin resurfacing procedures: ablative and non-ablative. Ablative lasers remove layers of skin and are sometimes called wounding lasers. Non-ablative lasers, such as ClearLift, stimulate collagen production, tightening the skin without causing external damage.
The laser delivers heat energy beneath your skin in tiny columns called micro-thermal treatment zones. Some old cells are eliminated and collagen production is heightened, but the outer surface layer of your skin, called the epidermis, is unaffected. ClearLift treatments are extremely precise.
ClearLift is already a huge hit in Hollywood because the pixelated skin resurfacing laser divides light into multiple fractions that push deeper into the dermis. Skin is regenerated from underneath with absolutely no injury to the skin's surface, leaving no redness.
The beauty of this treatment is that it allows microscopic beams to penetrate deeply, stimulating the production of collagen without wounding the outer layer of the skin. This makes this procedure pain-free, and without any downtime after the procedure.
ClearLift is best utilized on the fine lines around the eyes and mouth, but can also be used on the upper cheek area and the forehead. Our Boca Raton ClearLift patients report instant results that see their skin looking plumper, firmer, and rejuvenated, with absolutely no injury to the skin's surface.
Distinct Advantages Of ClearLift
An incredibly fast treatment. NuWays MD's ClearLift can take anywhere from 30 minutes for the full face to 1 hour for the face and décolletage area.
A virtually painless procedure: most of our patients feel absolutely nothing, others feel a slight tingling sensation.
A procedure with no punctured skin.
Minimal redness. If there is any erythema, it typically will disappear within an hour.
A procedure with no downtime: patients can continue all normal activities immediately.
An unmatched improvement in the appearance of wrinkles and skin laxity.
The treatment works to lift and tighten skin, and improve the tone of the neck while also providing preventative care for fine lines and wrinkles. The result is a refreshed and youthful glow in only a few simple treatment sessions. Treatment separation is generally suggested at 2-3 weeks apart.
Radiance, clarity and smooth texture are the hallmarks of youthful skin. However, over time, the effects of aging and sun exposure can take their toll. This leaves skin imperfections such as wrinkles, fine lines, sun spots, uneven skin tone, and skin laxity. ClearLift Laser Facelift takes years off of your face in just minutes, providing similar results to chemical peeling and laser resurfacing.
Frequently Asked Questions
What can ClearLift though NuWays MD do for me?
Typically, the neck is a difficult area to firm and lift without invasive and potentially painful surgical procedures. NuWays MD's Botox procedures can soften necklines, but to tighten the skin, the best product on the market is ClearLift. This non-invasive laser treatment permeates the dermis to revive skin from deep within, fleshing and tightening in a way no other treatment can.
ClearLift Lunchtime laser "facelift" has grown multitudes in popularity. it allows for a virtually pain-free and no hassle treatment that can remove ten years from a patient's face in less than 30 minutes (hence the name "lunchtime" laser. ClearLift improves fine lines, wrinkles, the appearance of small veins and redness caused by vascularity. It is gentle enough to treat areas that are typically too sensitive to treat with traditional ablative lasers, such as the delicate skin around the eyes, neck, mouth, and chest.
ClearLift Laser Treatment delivers a controlled dermal wound without harming the overlying epidermis so that all stages of healing and skin repair occur under the intact epidermis. ClearLift is gentle enough to treat areas previously considered too sensitive for such laser treatment. As stated above, an area untouched by most skin treatments such as the skin around the eyes. This assists in the appearance of dark circles and tightens the periorbital skin.
Are there any drawbacks to ClearLift?
There are very few drawbacks to ClearLift. Some people feel warmth or discomfort the day after a treatment, although this is not common. Others may not want to deal with a succession of appointments, and instead get a quicker, more invasive treatment that works in one appointment. While ClearLift is not for everyone, many people will appreciate the dramatic change in skin with virtually no risk.
If you are considering an anti-aging treatment but don't want to deal with burns, abrasions, or surgeries, ClearLift through NuWays MD may be the right decision for you. With no pain or risk but noticeable anti-aging results, this safe and painless laser resurfacing is a great option for people who want the best of all worlds.