PRP (Vampire) Facial
in Boca Raton, Florida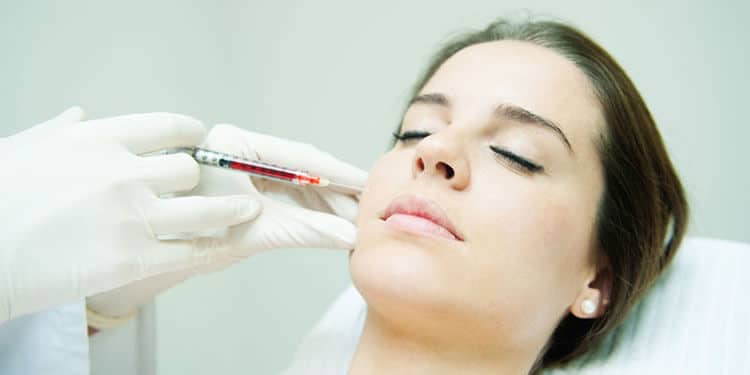 Platelet-rich plasma, also known as PRP, is an innovative, effective, and safe form of regenerative therapy that can rejuvenate your skin. PRP facials are a minimally-invasive, non-surgical treatment that uses platelets in your own blood, as well as micro-needling, to revitalize your skin. PRP facials improve skin texture, tone, and elasticity, as well as erase wrinkles and scarring.
PRP Facials Can Help With:
Dark circles under the eyes
Forehead smile lines
Areas with deeper, more severe wrinkles
Skin issues around the neck
Décolleté problems
Obvious age marks on the backs of the hands
Stretch marks
Acne scars and pitting
What is a PRP Facial?
There are two types of PRP facials: injection PRP facials and topical PRP facials combined with micro-needling.
With the injection facial, PRP from your own blood is injected into your skin and rejuvenates it from the inside out.
With the topical facial, micro-needling is used to produce minor trauma in spots of the skin. Through this process, your skin naturally heals the treated areas, and topically-applied PRP promotes the healing process for further rejuvenation.
How Does It Work?
One percent of human blood consists of platelets and plasma, while the rest consists of red blood cells and white blood cells. The extraction of PRP is painless, easy, and can be conducted in a single office visit at NuWays MD. Blood is centrifuged to create a concentrate of pure platelets and plasma. The growth factors in this part of your blood promote your body's natural healing process.
These growth factors found in PRP induce collagen and elastin production, which is a natural process contributing to healthy, vibrant, youthful skin.
The PRP Facial Procedure
During the procedure, numbing cream will be applied to the face and areas of treatment. Once you are well-numbed, your physician will either inject the PRP or microneedle your skin, depending on the treatment chosen. If you pursue the latter treatment, topical PRP will be applied to the micro-needling sites. After the PRP has been injected or applied into your skin, the body's natural healing process will begin.
PRP Facials by the Numbers:
14 million minimally-invasive cosmetic procedures were performed in 2017
8 million total cosmetic procedures were performed in 2017
Over 740,000 microdermabrasion (micro-needling) procedures were performed in 2017, with nearly 600,000 performed on women
Considering these statistics, cosmetic procedures are highly sought out by men and women alike. NuWays MD patients in Boca Raton and beyond often benefit from many types of minimally-cosmetic procedures involving the use of PRP.
Frequently Asked Questions
What Can PRP Facial Treat?
PRP facial treatments can treat a myriad of skin-related issues. These issues include dark circles under the eyes, forehead smile lines, areas with deeper, more severe wrinkles, signs of aging in the neck, décolleté, backs of the hands, stretch marks, and acne scars and pitting.
What Can A PRP Vampire Facial Do For My Skin?
PRP vampire facials use platelets and other growth factors from your own blood to essentially instigate and promote the body's natural healing process including:
Improve the appearance of wrinkles and fine lines.
Improve your skin texture.
Reduce the size of the skin pores.
Improve the appearance of acne scars.
Improve the plumpness of your skin.
Give you a youthful glow and smooth skin.
Improve the effectiveness of skincare products.
Am I a Candidate For PRP Facial?
Men and women in overall good health, looking to erase fine lines, wrinkles, and scars on their face, are the best candidates for PRP facial rejuvenation. Contact NuWays MD in Boca Raton today for a complimentary consultation, and see if you're a candidate for our cutting-edge PRP facial treatments!
When Will I See Results?
Some patients start seeing improvements in their skin as early as three weeks and improvement continued for three months after. However, most patients achieve desired results with more than one treatment, including annual maintenance treatments. For stretch marks and scars, physicians recommend between three to five treatments for ideal results.
How Long Do the Effects Last?
The effects of PRP facials may last between 12 to 18 months. Some patients may benefit from three to four sessions with a month in-between to treat areas of trouble. However, for continuous refreshed and rejuvenated skin, patients can additionally seek more frequent treatments.
Does It Hurt?
Patients report experiencing minimal pain in the injection and/or micro-needling processes due to the numbing cream applied before the procedure. However, pain experienced depends on the patient's pain tolerance, as well as the site of treatment.
Is It Safe?
PRP vampire facials, like other platelet-rich plasma procedures, are both safe and effective when completed in a safe, sterile environment by trained providers. The use of a patient's own blood to promote the healing process minimizes the chance of infection from communicable disease.
What Are The Side Effects?
Temporary and harmless side effects include redness, soreness, swelling, itching, and tenderness at the injection site. Other potential side effects may come from the injection itself and not the PRP. These side effects include infection, pain at the treatment site, tissue damage, and allergic reactions to medication injections like Cortisone or hyaluronic acid.