O-SHOT (Sexual Health)
in Boca Raton, Florida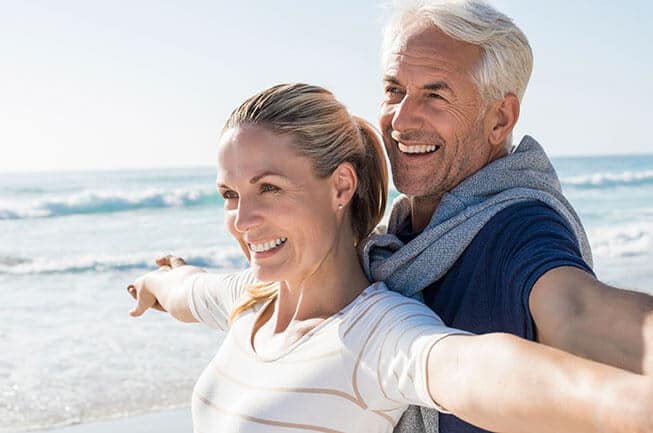 As women age, diminished sexual desire, urinary incontinence, vaginal dryness, and reduced sexual responsiveness are common, unwanted symptoms. Now, thanks to several breakthrough technologies, a procedure known as the O-Shot is helping to revitalize sexual health and self-confidence for women – without surgery or downtime.
Over 50 percent of women experience the ill effects of sexual issues – for example, an absence of lust, loss of excitement, and a failure to have a climax. Numerous women trust that their loss of climaxes is mental. This could not be further from the truth in most cases.
Your friendly professional at NuWays MD will utilize platelet-rich plasma (PRP) from the patient's own blood to effectively and naturally treat a variety of age-related issues that impact sexual performance and satisfaction.
The platelet-rich plasma is administered by injection into the vagina after local anesthesia is injected. The PRP works by stimulating stem cells, collagen, and blood vessels, effectively rejuvenating the vaginal region and making it feel and respond to stimulation the way it used to.
The O-Shot is used to treat urinary incontinence, vaginal dryness and even reduced sexual responsiveness in women, particularly those who are post-menopausal. Both safe and nonsurgical, the procedure helps stimulate vaginal and clitoral rejuvenation. Other benefits include:
Other O-Shot Benefits Include:
Relief from painful intercourse (dyspareunia)
Expanded clitoral sensitivity and excitement
Improved skin texture of the vulva (vaginal lips)
More tight vaginal opening for more pleasurable intercourse
Increased arousal from G-spot stimulation
More extraordinary and more regular climaxes
Women Deserve Better Sex!
But what can the "O-Shot" do about it?
The "O-Shot" or "Orgasm Shot" is a simple, non-surgical injection designed to improve the quality of sex for women. The injection uses platelet-rich plasma (PRP) to sensitize the vaginal area and alleviate physical dysfunction.
Across the world, over 10,000 O-Shot procedures have been completed in over 17 countries. The O-Shot has been featured in major publications for its rejuvenating properties. Why do so many women seek out O-Shot for their sexual issues?
Here are five thought-provoking facts about sexual dysfunction, and how the O-Shot at NuWays MD can assist in alleviating these symptoms:
1. Female Orgasm Is Less Common Than You Think
Women's Day magazine says that 1 in 3 women have difficulty reaching orgasm, with 10% unable to reach climax. "The inability to orgasm, is very common– as high as 43 percent, according to some surveys," says nurse Lisa Stern in the magazine.
A 2011 study found that 8 out of 10 American women fake orgasm during intercourse. Of the participants, 1 in 4 faked their orgasms 90 percent of the time.  Female sexual dysfunction, including arousal and orgasm, affects millions of women.
2. The O-Shot Affects Sex In Several Ways
The O-Shot upgrades the nature of sex through focused infusion. The O-Shot conveys platelet-rich plasma (PRP) to the clitoris and the "O-Spot" inside the vagina. The sound and responsive tissue are made by development factors discharged from the platelets.
A greater part of ladies encounters expanded sensitivity, a more grounded sex drive, and steady excitement from this improved tissue. From the expanded bloodstream and nerve development, vaginal and clitoral climaxes turn out to be more extreme and regular after a solitary treatment.
3. The O-Shot Is For More Than Sex
The O-Shot procedure can treat both stresses and urge urinary incontinence for 90% of women while increasing lubrication in the vagina. Many women experience uncomfortable vaginal dryness and urinary incontinence caused by aging, pregnancy, menopause and other medical conditions.
Urinary incontinence can affect women of all ages, but the issue is most prevalent among older women. Another benefit of these injections is more youthful and smoother looking vaginal lips.
4. The "Magic" Is In Your Blood
Where does the PRP in an O-Shot infusion originate from? Your own blood. Concentrates in the Advances in Skin and Wound Care and Journal of Drugs in Dermatology demonstrate that when PRP is infused into the body, undifferentiated organisms duplicate and develop new tissue.
Similarly, PRP is utilized to recover facial skin, it can recover sound vaginal tissue. Comparable medications are utilized as a part of sports medicine to help treat damage recuperation for players.
5. It's Fast, Painless and Non-Surgical
There's little pain or discomfort during a 30-60 minute procedure. Injection areas are given topical anesthesia with the clitoris numbed with lidocaine. Using an FDA-approved process, PRP is separated from blood (taken from the arm).  Once PRP is injected into the clitoris and the upper vagina the procedure is complete.
Effects of the O-Shot, such as increased arousal, is often felt days after application; with the full effects of the shot developing in 3 weeks. O-Shot benefits may last as long as 2 years.
The O-Shot at NuWays MD
With this in-office system, we at NuWays MD in Boca Raton, Florida can focus on the peri-urethral zone amid the G-spot infusion which can dispense with mild incontinence that a few ladies experience with hacking, chuckling, working out, and so forth.
If you think you would like greater arousal from clitoral stimulation, stronger, more frequent orgasms, and increased sexual desire, along with a tighter vaginal opening, increased natural lubrication, and decreased pain during sexual intercourse- come to see us and start feeling young again.